---
Mara Dolan is a longtime Concord Resident who has been an active participant in the political process since childhood, and has recently taken her voice to the air with "Right Here, Right Now." A talk show that invites viewers behind the headlines of state politics.
"I started this show because I wanted to provide viewers with an opportunity to become better informed about how our society works. I want guests from both the public sector, including elected officials, candidates for public office, and policy analysts, and the private sector, including leaders from business, non-profits, and NGO''s."
In the last few months Mara has become a prolific producer and regular face here at CCTV shooting at least once a week. Her show has featured guests as diverse as Independent Gubernatorial candidate Tim Cahill, and Congresswoman Nikki Tsongas, to renown New York Times Correspondent St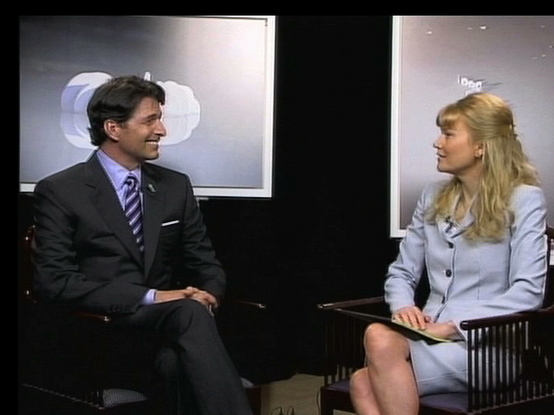 ephen Kinzer.
"The ultimate question is: what do you think? I want to know how my guests see the world and how they want to address what they see... I want to know where they''re coming from, so that we can all understand one another better, and get better at working together to solve the problems we face today."
Mara has an uncanny ability to get past the political face leaders often try to present to the media. By asking thoughtful and decisive questions, Mara creates a conversation where seasoned politico''s actually have to think beyond the talking points.
When asked about the goals of her show, Mara states "I want our viewers to come away better informed, more hopeful about our society''s ability to problem solve, and more eager to be a part of it."
New episodes of "Right Here, Right, Now" air weekly on CCTV on Sundays at 2pm and 11pm and on Wednesdays at 9pm.
With new HD equipment comes new procedures. Luckily we have the big guns coming out to show us what our high-def cameras are all about.
Join Rule Director of Technology, Tom Talbot along with Bill Mintzer as they introduce you to the new world of tapeless video production.
They will introduce the main features of the Sony NXCam, the Canon HF200 and discuss the workflow into Final Cut. Of course, any other topics you'd like added will be addressed as well as any questions from the audience.
6:30pm, Thursday, July 29th At the CCTV studios.
FREE!!! Refreshments will be served!
The Concord Public Works Commission has declared a State of Water Supply Conservation.
With the extended record high temperatures and lack of precipitation, Concord's water system is experiencing extreme demands with supply essentially equaling demand at approximately 4 Million Gallons per Day. All customers have been asked to refrain from outdoor water use. This request for voluntary compliance has been declared to safeguard the limited capacity in an effort to ensure adequate supply for essential water use, including fire protection.
As detailed in this years Town Meeting warrant article, operation of Nagog Pond presents certain challenges with regard to overall system reliability. As of this morning, after considerable effort and coordination by CPW water system operators, Concord Public Works has successfully put the Nagog Pond water supply online at a rate of approximately 500,000 gallons per day. If current weather conditions persist and any mechanical/quality issues arise at Nagog or if other groundwater sources experience an upset, a mandatory water ban will be necessary.
In addition to Nagog Pond, all town water sources are on line and both the Annursnac and Pine Hill reservoirs remain extremely low. Reservoir levels have the potential to impact water pressure (in upland service areas of Town) and aesthetic water quality throughout. CPW is monitoring the situation around the clock and will provide additional information as it becomes available.
Concord Public Works
978-318-3206
For more information go to the town website www.concordnet.org
Brand new courses at CCTV.
Thursday May 20th CCTV hosted a huge party at the Concord Art Association. The atmosphere was elegant and relaxed as CCTV came out of the studio and invited the whole town to enjoy food, drinks, great conversation and lots of prizes. Check out some of the highlights:
CCTV Board and Staff (and Luke): From Left to Right:
Back row: Lindsay Alaimo, charles Paige Rob Mast, Court Booth, Juli Gomez, Charles Palmer, Neville Webb, Matthew Geiger,
Kneeling: Kester Kreuger, Luke Anagnostopulous, Sid Levin, Andy Sapp. Not Pictured: Marshall Lee.
Member of The Concord Council On Aging and Prolific CCTV Volunteer Bill Ritchie
CCTV Staff Members Lindsay Alaimo and Kester Kreuger enjoy a breath of air in the midst of an otherwise chaotic day of wearing bowling shirts.
Members of The CC Weather Services Group and CCTV's Weather Girls. From Left to Right: Caroline St. Francis, Alex Coffin and Meg Yamin.
Oh Man! this cake was amazing. Thanks to Sally Ann Bakery who made our sugar wishes come true. This butter cream majesty is sporting both vanilla and chocolate under the hood, Take that Dolly Madison.
Seen through the eye of the camera, CCTV Executive Director Charles Paige lead the raffle that included a whopping 21 prizes!!! Many donated from local businesses such as The Colonial Inn, Concord Inspirations, and The Nashoba Brook Bakery.
The Big Winner of the night Mr. Victor Shakespeare who won an Apple Ipad. He's either going to use it cook up the most ridiculous plot this world has ever known... or check his email. Either way, In the words of Victor Shakespeare, "I'm scared yo".
Congratulations to all our winners. Also a huge thanks goes out to our members, friends and guests. Thank you to all our sponsors, donors, and The Concord Art Association for making the evening a huge success.